10. November 2015.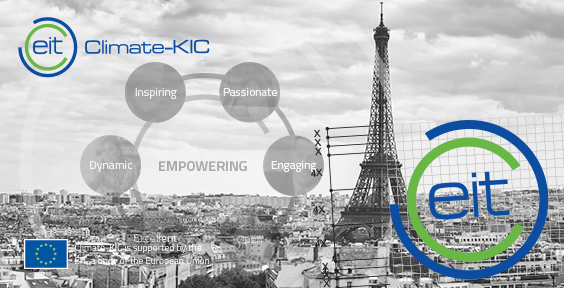 Climate-KIC addresses climate change across four new priority themes: Urban Transitions, Sustainable Production Systems, Decision Metrics & Finance and Sustainable Land Use. Education is at the heart of these themes to inspire and empower the next generation of climate leaders. As world leaders are set to strike a ground breaking climate change deal in December, the roll out of the structural changes that started this autumn will help Climate-KIC increase its innovation capacity and build on COP21's momentum into 2016. Climate-KIC is the EU's largest public private partnership addressing climate change through innovation to build a zero carbon economy.
Climate-KIC's new branding includes a new visual identity, mission, vision and brand values.
"In partnership we can face the challenges ahead and enhance Europe's growth, competitiveness and well-being," says Angela Howarth, head of communications at Climate-KIC, "We reflect that with Climate-KIC's new brand identity."
Climate-KIC is supported by the European Institute of Innovation and Technology (EIT), a body of the European Union. Climate-KIC's visual identity has been brought into alignment with that of the EIT, which also supports four other Knowledge and Innovation Communities (KICs), most of which now use similar branding: EIT Digital, EIT Health, EIT Raw Materials and KIC InnoEnergy.
"The EIT Community brand serves to unite all who are working to increase Europe's capacity for innovation and entrepreneurship across all sectors, something that is particularly critical in the case of our collective response to climate change," said Howarth.
In the EIT's new core logo, the inner 'C' shape highlights the community aspect of the logo, while the outer shape symbolises the supportive yet open nature of the EIT Community. Climate-KIC has also adopted a new official mission statement as part of the brand refresh: "We bring together, inspire and empower a dynamic community to build a zero carbon economy and climate resilient society" and a new vision: "To enable Europe to lead the global transformation towards sustainability."
If you want to learn more about our new brand, check our central homepage HERE.