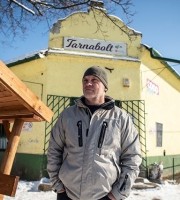 Field of interest
Alkalmazkodás az éghajlatváltozáshoz
Fenntarthatóbb városi rendszerek
Biomassza alapú gazdaság fejlesztése
Job
CEO
Name of organization
Glia Kf.t
Intoduction of organization
A Glia Kutatás-Fejlesztési Innovációs Kft. 2003-ban alakult. Alapítói olyan szakemberek, akik az elmúlt évek során jelentős szervezési, vállalatirányítási tapasztalatokra tettek szert. A cég célkitűzése olyan projektek sikeres megvalósítása, melyek határterületi tudományok alkalmazásával a nagyközönség számára is hasznosítható technológiákat, szolgáltatásokat hoznak létre. A Glia Kft. az elmúlt időben és jelenleg is több kutatás-fejlesztési és innovációs projektben vett, illetve vesz részt. Ezek nagy része többszereplős, konzorciumban megvalósuló nagy léptékű projekt, melyekben interdiszciplináris feladatokat oldunk meg. Az elmúlt időszakban kutatásaink, termékfejlesztéseink elsősorban a biotechnológia, mezőgazdaság és agrárinformatika területén végzett szerteágazó kutatásokra fókuszáltak, amely a talajnedvesség-mérésen és különböző innovatív alga-alapú organikus talajjavító szereken alapuló technológiákat is magában foglalva a mezőgazdasági termelés hozamnövelését és fenntarthatóságát hivatottak szolgálni. A cég rendelkezik több Európában engedélyezett algaalapú termékkel.
Name of project
Tarnabod 2.0
Intoduction of project
Olyan rendszert szeretnénk kialakítani, ami lehetőséget és inspirációt ad a vidéki élet narratívájának folytatásához, miközben gondoskodik és támogatja az életképes bevételi forrásokat kínáló vidéki közösségeket. A fejlett mezőgazdasági technológia és a hagyományos gazdálkodás ötvözésével új típusú vidéki peremgazdaság jöhet létre, mezőgazdasági terek hálózatát hozva létre, amely a közösség szerkezetébe ágyazódik be.