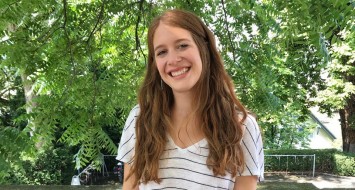 Introduction
I am Zita Szigeti from Budapest and I participated in The Journey in the summer of 2019. I studied Business Administration Bachelor in Munich and decided to stay there for my Master, however change the focus of my studies. Now, I am studying Sustainable Resource Management at the TUM, specialising in Agriculture and Waste Management. 
Interview
Which countries did you visit throughout The Journey?
We visited Copenhagen (Denmark), Zurich (Switzerland) and Hamburg (Germany).
What project did you work on?
Our project was to create a cross-sector online trading platform connecting material wastes of small and medium enterprises (SMEs). The waste material of one SME could be sold to another one, creating financial value while reducing environmental impact in the chain.
What was the most interesting thing about the teamwork in an international team?
It was interesting to see how everyone had a different approach for working in a team, as we all came from different countries and studied all around Europe. Based on these various methods, we created our own efficient working environment, where we could thrive. It was also so much fun working together so intensely on our project and seeing how far we got at the end.  
What was the biggest challenge in The Journey?
The lack of sleep… we had so much to talk about and so much to do during those four weeks, we barely had time to sleep. But you can catch on that later, important thing is that you enjoy every second of your Journey.
What did you like most about The Journey?
I loved every minute of The Journey and it is hard to say what I liked most. But one thing for sure, I loved our community and how we learned from each other and had so much fun. In the beginning I thought it could turn out to be a little depressive, being surrounded by people who are all aware of the challenges and devastating consequences of our changing climate. But it was just the opposite: it was so inspiring to see how every member was active in their local communities, universities to drive positive change. We learned so much from each other. Also, I enjoyed all our interesting lectures, inspiring companies, we visited and every excurse we took.
What were your most valuable takeaways from The Journey?
The system thinking approach, on what The Journey is based on was a very valuable lesson, I learned during those four weeks. Our mentors were truly amazing in guiding us through the whole process of understanding this complicated system we live in and encouraging us to step outside the box, if necessary. Furthermore, the community and the friendships, I gained during The Journey are very important to me.
What would you recommend future Journey participants?
I would recommend to be open-minded and be hungry for new knowledge. It can get a little tiring sometimes, but try to give 100% of your energy the whole time to really make the best out of it at the end.
How did the Journey change your life?
It gave many powerful tools to work with, amazing friendships and opened my eye about so many things. I am also trying to be active within the Climate KIC Alumni community and keep learning more.