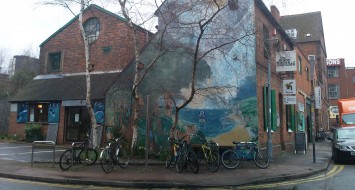 Introduction
Localise West Midlands is a not-for- profit think tank and consultancy which promotes the environmental, social and economic benefits of local trading, materials and supply chains, as well as decentralisation of democratic and economic power. Based in Digbeth, it is a small but influential organisation in the region, and has been running for about a decade. Since becoming more concerned with the low carbon economy in recent years, it has hosted several Pioneers, and this year was the turn of Lukas Schafer, who has a background in waste and water management and has worked for various companies and municipalities since starting his career. 
Interview
The Pioneer experience 
Localise West Midlands had a specific project for Lukas to work on during his placement. "We had an idea which had been around for a while, and Pioneers seemed like a good opportunity to take it for- ward," explains Phil Beardmore, a Director. The project was a piece of research and a report into the feasibility and regulatory position of a water services co-operative. In a market place which is likely to be dominated by a few big players, Localise West Midlands want to enable smaller outfits to offer an ethical alternative.
As it transpired, Lukas turned out to be exactly the right person for this piece of work. "To be honest, I don't think we understood the degree to which he had knowledge of water treatment, for example. He grasped the regulatory position of water provision very quickly," recalls Phil. He also felt confident enough to modify the brief that LWM gave him, and they were impressed with how he applied himself to that brief over the course of his placement.
At the end of the placement, Lukas was able to deliver what LWM wanted – a piece of knowledge transfer on developing a water services co-operative. It is now in a position to be able to offer this idea to others as a potential business solution – but they are currently taking advice contained in his report and waiting to see how the new marketplace unfolds. Phil identifies this as important insight, which has very much shaped how they are looking at this project.
As for Lukas himself, Phil feels that while he would have picked up some information about the water industry in Britain, the most interesting benefit to the placement for him might have been the office itself. LWM are based at The Warehouse, which is a hub for a number of green and ethical businesses and campaign organisations, including Birmingham Friends of the Earth. They have a live campaign on how the city deals with its waste, which piqued Lukas' interest while he was there, and would have given him a new perspective on how different stakeholders relate to waste management systems. 
Challenges
Lukas' quality notwithstanding, LWM did have logistical challenges to overcome in hosting him. "We've got all the physical things we need: a room, a desk, a computer, a phone, but finding the time to supervise them is a problem," explains Phil. "I did that unpaid in the end, but it was only possible because he needed minimum supervision".
Interestingly, it is precisely because LWM wanted to buy into the spirit of Pioneers into Practice and to use the added capacity to develop something new that these challenges arose. Had they wanted to use Lukas to supplement existing activities, they could have tapped into existing staff resources to su- pervise him. But Phil stresses that this would have been much less valuable to them. "I would rather put in a bit of time at risk, to try and get something done, something too early in the development pro- cess to think about getting funding for," he says. Used well, a Pioneer's time and expertise can help to overcome that initial funding gap.
What is clear is that LWM are sensible to value they got from their placement. "Let's say we had £10,000 and we paid someone £500 per day, I don't think we would have got anything better than we got from Lukas."