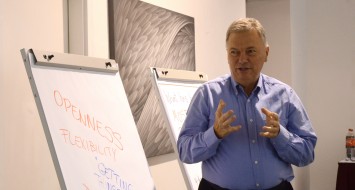 Introduction
Let me share with you my Climate KIC placements formidable experiences which have been completely  turning up-side-down my overall vision on CO2  while offering a new , progressive approach in Climate mitigation !
Interview
When  in March 2014  I applied for the Pioneer membership I had the same hard and straight standpoint on CO2  as I guess millions of people  on the Earth . CO2 is a dangerous Green-house gas (GHG) and responsible for the global warming consequently it is our enemy .We have to limit its output, doesn't matter how much does it really cost or how does it  limit our competitiveness or GDP growth.
With a Carbon Capture and Storage ( CCS ) technology  the EU wants to "dig " a huge part of this GHG gas posting  the problem to our kids.
By the time I have finished the placements and summerised my researche on both macro and micro level my vision on CO2  did a total 180 degrree turn. " Up-side-down"  as we can say. From an overall ennemy we can get a reliable source ( raw material )  to  the Climate mitigation battle , a new approach  supposing we are able to think in a  Climate mitigation progressive model !
In the Earth history CO2 content has always been warrying among extreme levels,  while mainly wegetations and algaes decreased it again and again to the " Human " supportable level producing O2 and Carbon structures as a result. The largest part of the current vegetation is capable to absorb 3-5 times more CO2 than the existing 270-300 ppm ground level. Can you imagine that a CO2 based Carbon fertilisation in micro and macro level could completely change our life . Increase food , feedstock , bioethanol and O2 while mitigating the climate change by decreasing the strongest part of the GHG gas in the atmosphere.
Most recently in Italy ( Emilia Romagna ,Faenza ) I did my international placement on micro ( local company )  level where I have studied 4G ( QuadGeneration ) technology, In 4G we are utilising the gas fuelled CHP unit exhaust gas for green-houses direct CO2 ferilisation , algae production or large scale CaCo3 fertiliser production for decreasing land degradation. Theoretically each town or industrial parc and also some factories  can fully use their  exhaust gas output with 4G technology converting it directly to useful products and make a local     " Zero CO2 output town/ region ". This is one,  really progressive way of climate mitigation in a 200 kWh to a 1 MWh range.
I did my domestic placement at FAO REC in Budapest  where land degradation was my researche field in macro. Having discovered that land degradation is strongly interconnected with missing or poor vegetation and lack or fast decreasing C content I have started to work on a complex solution based on my previous plan of the Green Sahara . I have selected a Paulownia plant , new plantation  technology and built up a  " Quadrat" system to revitalise a corridor in the Sahara desert from the Atlantic-ocean to the Chad-lake .A new type of open-air CO2 ferilisation ( an inverse drain system ) as well as micro grinded CaCO3 fertilisers can be used on large extent with the water reducung Hungarian patent ( Agrooter ) .Thus the European Union favorised  CCS program with the stored CO2 can be actively used in millions of hectare of desert revitalisation where an other macro form of progressive Climate mitigation can start.
So I am so happy beeing part of Pioneers community and contributing to the Climate mitigation with a progressive model in both micro and macro extent and perhaps changing a wiew on CO2 ,too!